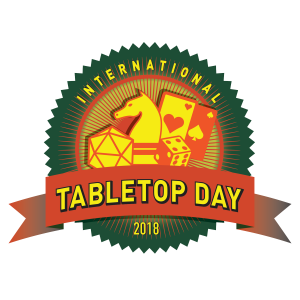 Saturday, April 28th, is Annual International Tabletop Day, and we're celebrating! All day Saturday, we'll host a variety of games that have been featured on the popular web series TableTop, hosted by Wil Wheaton. Our complete schedule will be posted soon, so make your plans now to be there if you like things that are fun.
We have our very own version of the TableTop Trophy of Awesome, so if you win a game, you can take your photo holding the trophy and receive a lovely piece of masking tape with your name on it as a souvenir of your triumph! Winners also receive a coupon for 10% off one game.
We'll have games running all day. At 8:00 PM, we'll become what we call "8th Dimension After Dark" – it's strictly ages 18 and up as we play adult-themed games like Fiasco, Slash, and Cards Against Humanity. (We keep a family-friendly store during regular business hours, you see, so this is a rare moment to let our hair down a little!)
The 2018 game schedule will be here soon!